While most of us may be blessed with a well stocked pantry in our offices, it is safe to say that most offices in Malaysia are used to stocking up unhealthy options like instant coffee mix and potato chips. Some times, all you want is a snack to help keep you awake when you are sleepy; some times, you need something light to curb that 5pm hunger because it's almost dinner time. It can be hard making the right decision to have healthy snacks in the office, so here's a list of healthy snacks you can have when you are at work!
1. Banana or apple slices with peanut butter
Fruits like banana and apple are high in vitamin C, antioxidants, and good carbs, which can give you a good boost of energy when you need it. They can also be carried around easily since you don't need to store them in the refrigerator. To add more flavour onto these fruits, add a spoonful of peanut butter, which is rich in monounsaturated fats, the kind of fat that can prevent heart disease and is less likely to be stored as body fat.
2. Tuna and crackers
Tuna is high in protein. A single serving of only 165 grams (approximately 1 can of tuna fish) contains more than 80% of your daily protein requirement. To add some crunchiness and texture to your meal,  spread the tuna on your favourite crackers. Opt for crackers that are made of whole grains and are low in sodium to ensure you're not overindulging!
3. Edamame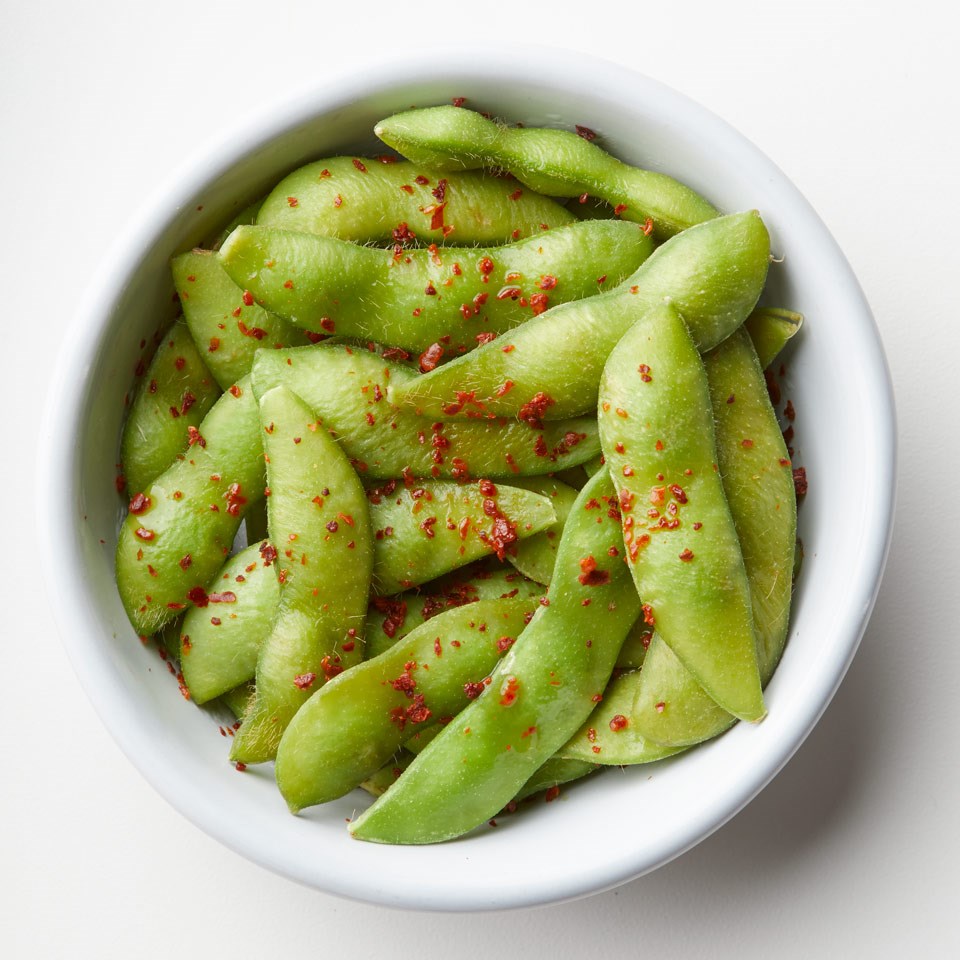 Fancy a little Japanese meal during your snack time? Why don't you try making your own edamame in the office. Edamame is a vegetable-type soybean, often eaten in the Japanese culture as an appetizer. It is rich in protein, antioxidants and fibre that may lower circulating cholesterol levels. You can find frozen edamame in almost all grocery stores these days.
Pop a bowl of edamame in the microwave and sprinkle some salt on it. Itarakimas!
4. Frozen corn
Another healthy snacks option you can have at work is to recreate our favourite corn in a cup in the office! Corn is a rich source of vitamin A, B, E and many minerals. Its high fibre content also helps in preventing digestive ailments like constipation. Be sure not to overdo the dressings or all the health benefits will be gone!
5. Low fat yogurt with cereal
If you are eating healthy snacks to lose weight, have yogurt as your snack food. Although it is a dairy product, yogurt has been studied as a calcium-rich food that helps burn fat and promotes weight loss. Top it up with some healthy option cereal like Kellogg's Special K or Cheerios Oat Crisp, bonus with some fruits if you have some!
---
There you go, 5 healthy snacks that you can have at work. These are all simple ingredients that you can easily store at the office pantry. So, no more excuse now. Stay healthy and focus on being productive at work today!